This 3rd landmark BBC One David Dimbleby series, described by BBC One controller, Jay Hunt, as the most ambitious and biggest budget arts programme ever undertaken by the BBC, included cues composed by our in-house composer Adam Violaris, whom we represent. All vocal cues for the series were sung by our artist, Eleni Violaris, whom we also represent. Eleni co-wrote words and lyrics for many of the vocal cues in Latin, Italian, Anglo-Saxon and Indian (Hindi). Andonis Violaris produced and executive-produced all music cues composed and performed by Eleni & Adam Violaris. To hear original broadcast and pre-production music from the series composed by Adam Violaris and sung by Eleni Violaris, click here.


FRANCESCO'S
MEDITTERANEAN
VOYAGE
The second Francesco da Mosto series for BBC Two, comprising 12 half hour episodes. First broadcast in the UK in the spring of 2008 to great critical acclaim. Following transmission of the last few episodes, in which our singer, Eleni Violaris performed several vocal cues, hits to the Francesco website increased by 4000%, indicating what a great impact Eleni's voice had on BBC audiences. There have been requests from all over the world where the series has been broadcast, for a series soundtrack album. The series has been broadcast and sold all over the world, accompanied by a book and DVD.
JEREMY
PAXMAN'S
THE VICTORIANS
Written and narrated by Jeremy Paxman, this four part series explored Victorian art & culture. Andonis Violaris acted as music consultant for much of the soundtrack (uncredited), composed and produced by Chris Nicolaides. The series was first broadcast in the UK in February 2009 to 4.5 million viewers, and repeated on BBC Two and BBC Four. The series has been sold around the world by BBC Worldwide.
'Marque of a Legend'. Produced by Worldmark Pictures for the ITV Network. Directed by Tony Maylam ('Riddle of the Sands'). Produced by Drummand Chalice. Narrated by Robert Hardy. Music by Andonis Violaris. A video and DVD of the programme has sold in the region of 20,000 copies. A 20 minute version of the programme had a theatrical release with the feature film,
'The Woman In Red', starring Gene Wilder and Kelly LeBrock.
'Marque of a Legend' - Main Theme: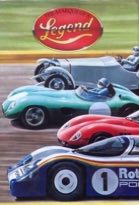 Film, Television, Corporate Videos & Albums


MUSIC PRODUCTION MUSIC SUPERVISION MUSIC PUBLISHING TALENT REPRESENTATION